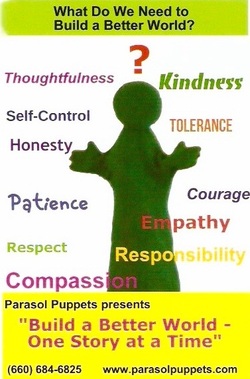 Thank you to all of the Librarians and their audiences who made our 2016 Summer Library Show, 'READY, SET, PUPPETS!" such a great success.


Parasol Puppets offers a choice of three puppetry experiences for the 2017 Summer Library Program. We are offering a new theme-based FAMILY PERFORMANCE, a very interactive SHADOW PUPPET WORKSHOP and an exciting PUNCH AND JUDY hand puppet show.

Please contact Debbie for pricing and available dates. Group Bookings Save Money!


Our new summer library show for 2017 is "BUILD A BETTER WORLD - ONE STORY AT A TIME". This original puppet show features Classic Folk Tales from different countries and cultures that highlight the character traits needed to build a better world for all of us.
Show length: 35 minutes
Maximum Audience Size: 200

---
For more hands-on fun, we again offer to the libraries our 90-minute Shadow Puppet Workshop. Participants make simple shadow puppets and experiment with them behind several shadow stages.
Flashlights and shadow-casting materials such as translucent plastic plates and even some kitchen utensils make this workshop an exciting, interactive experience.
Supplies provided.
These two photos are from a 2013 workshop at the Savannah Branch of the Rolling Hills Library System in the St. Joseph, Missouri area.


How about a high energy romp for your older library audiences?


Professor Peter Allen of Parasol Puppets is well known for his performances of the classic show, PUNCH AND JUDY. Teenagers and adult audiences would enjoy this interactive show for the summer library performances of 2016.

Please look at the home page of this website for more information and a video of this classic show!