Parasol Puppets
presents

Circus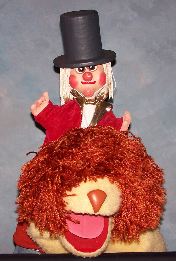 You'll have a front row seat to fun when you sit down to watch Parasol Puppets' CIRCUS.
Puppeteer Peter Allen uses colorful hand puppets to show you all of the thrills of the circus. The Ringmaster will introduce you to all of your favorite circus characters, including a clown, a very timid lion, and Madame Gertrude and her trained snakes. Audience members are encouraged to cheer, applaud and otherwise help the puppet characters to perform their circus acts.
This entertaining show is performed on a handpuppet stage. The stage is 6 feet tall, with the puppets appearing on a proscenium about 4 feet off the ground for clear visibility. This show can be performed at floor level or from an elevated stage.
Show length: 35 - 40 minutes
Suitable for Family Audiences
Maximum Audience Size : 250 people
Available Shows
/
Amazing Mysto
/
Circus
/
George and the Dragon
/
Nursery Rhymes
/
Pied Piper
/
Singing Turtle