Parasol Puppets
presents
The Singing Turtle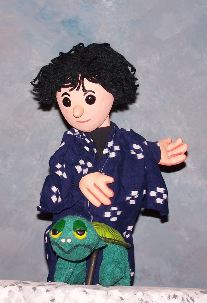 In this unique interpretation of a Japanese folk tale, a young boy and his family find happiness and good fortune with the help of a talented turtle.
Every day the boy must sell firewood in the village to support his family. His mother is always busy cleaning and worrying while his lazy older brother just likes to sleep and eat. One day the younger brother meets a turtle who can sing. Even though he shares his good fortune with his family, his older brother wants the turtle for himself. Can this story have a happy ending?
Puppeteer Peter Allen performs THE SINGING TURTLE with hand-puppets in a traditional proscenium puppet stage. The curtains open and close on hand-painted scenes of a small village in Japan. Koto music and kimonos provide a Japanese flavor to this lively tale. The puppet stage is equipped with lights and sound system. Musical accompaniment is pre-recorded, but the puppet voices are always performed live to ensure active communication with the audience.
For Family groups
Show length: 40 minutes
Maximum Audience size: 250
Available Shows
/
Amazing Mysto
/
Circus
/
George and the Dragon
/
Nursery Rhymes
/
Pied Piper
/
Singing Turtle