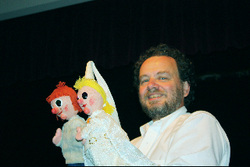 FREQUENTLY ASKED QUESTIONS

"Who and What are Parasol Puppets?"
Peter Allen and Debbie Lutzky Allen were already experienced puppeteers when they met at an UNIMA International Puppetry Convention in Germany in 1984. Married in 1986, they created Parasol Puppets together in 1987. They soon discovered that separate puppet stages make for a great working marriage, and have been making a living at puppetry happily ever after.
Peter Allen has been performing as a puppeteer and actor for 50 years. Born in England, he began doing puppets shows at the age of 8. Peter has performed puppet shows in England, Scotland, Germany, Canada and the United States.

---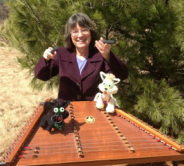 Debbie Lutzky Allen is from Honolulu, Hawaii. She has a Masters Degree in Theatre and Puppetry and has been performing and teaching puppetry since 1979, first in Hawaii and now in Missouri.
In 1997, Peter, Debbie and Parasol Puppets moved to a farm outside of Jamesport, Missouri. From this central location, they continue to tour with their puppet performances to the East Coast, West Coast, Hawaii, Canada and many points in between.

Debbie Lutzky Allen is the business manager of the team. When you call or email for information about booking a performance, Debbie will be happy to answer questions and discuss scheduling and fees. When your performance day arrives, the puppeteer will be Peter Allen.
---
"Do You Build Your Own Puppets?"
We certainly do! We use different styles of puppetry and different building materials, depending on what we need for each show. Below, you can see the plastic bottles, paper mache heads, painted heads, arms and tails, wigs and a final marionette puppet in our show, CHICKENS AND PIGS AND BEARS, OH MY! There are more photos of puppets being built on our "Custom Built Shows" page.
"What does the Puppet Stage
look like?"
We use many different puppet stages. We build our own puppet stages. The style of the stage is determined by the demands of the performance we are creating. At left is the hand puppet stage that we use for LITTLE RED RIDING BUG. At right, the stage is set up and ready for performances at the Great Arizona Puppet Theater in March 2016.

We use the same stage, with different curtains and decorations, for our Christmas hand-puppet shows THE GINGERBREAD MAN'S CHRISTMAS and LITTLE LOST STOCKING.
"What do you charge for your shows?"
Debbie will give you a complete fee breakdown when you contact her about booking a show. She will quote you a Performance Fee and a Travel Fee. We offer an educational discount on the Performance Fee to schools and libraries. The Travel Fee includes mileage, possible overnight stays and on long-distance bookings, maybe even air-fare and car rental. The Travel Fee is the same for one performance or 10 performances, so we encourage you to reach out to other schools, libraries or arts administrators in your area to organize a performance tour. That way you can split the Travel Fee between you. Group Bookings will share the fun and save you money.


"Do you have Special Shows for Holidays and Special Occasions? "
If you need a puppet show at an Outdoor Event or Arts Festival, we recommend THE AMAZING MYSTO'S MAGIC SHOW or PUNCH AND JUDY. These shows are performed on portable stages that can be easily moved around your festival. The show length is flexible as well. How about a 20 minute show under the trees in this corner of your park? How about a longer show on the Outdoor Main Stage? You can see more information about PUNCH on our Home Page. Click the Available Shows page to read about MYSTO.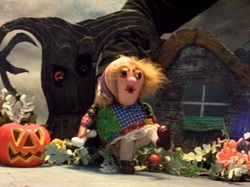 "How About Halloween Shows?"

THE TEENY TINY WOMAN AND OTHER HALLOWEEN TALES
Puppeteer Peter Allen is visible to the audience during the first part of the performance so that he can encourage young children to respond and enjoy this gentle Halloween show. In the audience participation version of an old English folk tale, the teeny tiny woman takes a teeny tiny walk, finds a teeny tiny bone, and suddenly her teeny tiny house echoes with the cry, "GIVE ME MY BONE!"

This entertaining show is performed on a hand puppet stage. The stage is 6 feet tall, with the puppets appearing on a proscenium about 4 feet off the ground for clear visibility. This show can be performed at floor level or from an elevated stage.
Show length: 35 - 40 minutes Suitable for children ages 4 through 10 and family groups Maximum Audience Size : 200 people

---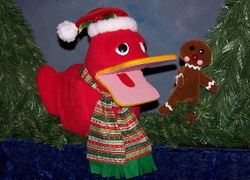 "How About Christmas Shows?"

THE GINGERBREAD MAN'S CHRISTMAS
Parasol Puppets adds a Holiday twist to a classic tale with this festive hand puppet show. When Mrs. Claus bakes a special cookie for Santa, the Gingerbread Man decides that he doesn't want to get eaten! He hops off of the cookie sheet and begins his sing-a-long adventure. Unlike the original story, in our version everyone lives happily ever after.

Audiences will be delighted to join the puppets in singing "Deck the Halls", "Santa Claus is Coming to Town", "Frosty the Snowman", "Rudolph theRed-Nosed Reindeer" and "Jingle Bells". There will even be a special appearance by the Christmas Duck who will teach everyone his Christmas theme song!

Show length: 35 - 40 minutes Perfect for Family Groups and children of all ages Maximum Audience Size : 250 people

---