For more information or to book a puppet show, please call Debbie at:
(660) 684-6825


Parasol Puppets is an "Approved Missouri Touring Performer" for the Missouri Arts Council. This means that your school, library or arts organization may be eligible to have part of our fee funded by the Missouri Arts Council.



For information about the Missouri Arts Council Touring Performer program, please go to www.missouriartscouncil.org
Peter Allen has been performing as a puppeteer and actor for 50 years. Born in England, he began doing puppet shows at the tender age of eight. Peter has performed puppet shows in England, Scotland, Germany, Canada and the USA. Peter moved to Hawaii when he married puppeteer Debbie Lutzky in 1986.
Debbie Lutzky Allen has a Masters Degree in Theatre and Puppetry and has been a working puppeteer since 1979. She has taught in numerous schools, conducting residencies to emphasize language arts through puppetry.
As a company of solo puppeteers, Peter and Debbie successfully performed and taught puppetry from their Hawaii base for 10 years. In 1997, Peter, Debbie and Parasol Puppets moved to a farm outside of Jamesport, Missouri. From this central location, they continue to tour with their puppet performances to the East Coast, West Coast, Hawaii, Canada and many points in between.

​"THE GINGERBREAD MAN'S CHRISTMAS"
Sing-a-long Fun for Everyone!
​
When Mrs. Claus bakes a special cookie for Santa, the Gingerbread Man decides that he doesn't want to get eaten! He hops off of the cookie sheet and begins his sing-a-long adventure. Unlike the original story, in our version everyone lives happily ever after.
Audiences will be delighted to join the puppets in singing "Deck the Halls", "Santa Claus is Coming to Town", "Frosty the Snowman", "Rudolph theRed-Nosed Reindeer" and "Jingle Bells". There will even be a special appearance by the Christmas Duck who will teach everyone his Christmas theme song!
Promote Reading with "CHICKENS AND PIGS AND BEARS, OH MY!"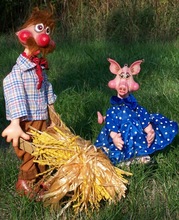 Everyone has heard the stories of The Three Bears, The Little Red Hen and The Three Pigs. Why have these folk tales lasted for so long? Children enjoy hearing these stories because they are about animals and adventures. Parents and teachers enjoy sharing them because these stories are also about compassion and honesty and responsibility. How do you make an old story new and exciting? Tell it in a different way!

Peter Allen performs THE THREE LITTLE PIGS with marionettes, THE LITTLE RED HEN with shadow puppets and THE THREE BEARS (a version that doesn't include Goldilocks) with "table top" puppetry and finger puppets. Lively puppet characters, music and lots of audience participation will keep everyone entertained.

For School shows, teachers and students can enjoy the activities and discussion questions featured in our Study Guide.
See below for a video teaser from a performance at the NorthWest Puppet Center in Seattle, Washington.
---
Parasol Puppets celebrates " PUNCH AND JUDY"

Peter Allen saw his first Punch and Judy puppet show when he was a child in England. Seeing that vibrant performance inspired him to pursue puppetry as a passion and a career.

That was 50 years ago!

"Professor" Peter Allen plans to perform Punch and Judy in as many different places as possible. Last year, he added the International Puppetry Festival in Nashville, Tennessee, and outdoor festivals in Columbia and Shoal Creek, Missouri to his list that includes Seattle, Washington; West Liberty, Iowa; Helena, Georgia; Asheville, North Carolina; Vancouver and Burnaby, British Columbia, Canada as well as points in between. You can book this traditional performance for your next Outdoor Festival! See below for a video teaser from a 2013 Punch and Judy Performance at the Lake Eden Arts Festival near Asheville, North Carolina.

---